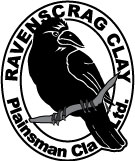 If we demand clay bodies with great working properties, why do we not demand the same of our glazes?
Get samples and buy larger quantities here
Canada
Ceramics Canada
(Calgary, AB)
Greenbarn Pottery Supply
(Surrey, B.C)
Lakeview Pottery
(Regina, SK)
Plainsman Clays Limited
(Medicine Hat, AB)
Plainsman Pottery Supply
(Edmonton, AB)
SIAL
(Laval, Quebec)
The Pottery Supply House
(Oakville, ON)
The Sounding Stone
(Winnipeg, MN)
TREE Pottery Supplies Ltd.
(Saskatoon, SK)
Tucker's Pottery Supplies, Inc.
(Richmond Hill, ON)
USA
Archie Bray Foundation for Ceramic Arts
(Helena, MT)
Axner Co.
(Oviedo, FL)
Laguna Clay Company
(City of Industry, CA)
Laguna Ohio
(Byesville, OH)
Also get samples here
If your local supplier does not have it!
Be sure to request it from them, it is available from their supply chain so they can get it for you.
Ravenscrag Slip is a product of Plainsman Clays and near Ravenscrag, Saskatchewan, Canada.