P300
Description
Mid-temperature, medium plastic, vitreous, off-white burning, kaolin-only porcelain.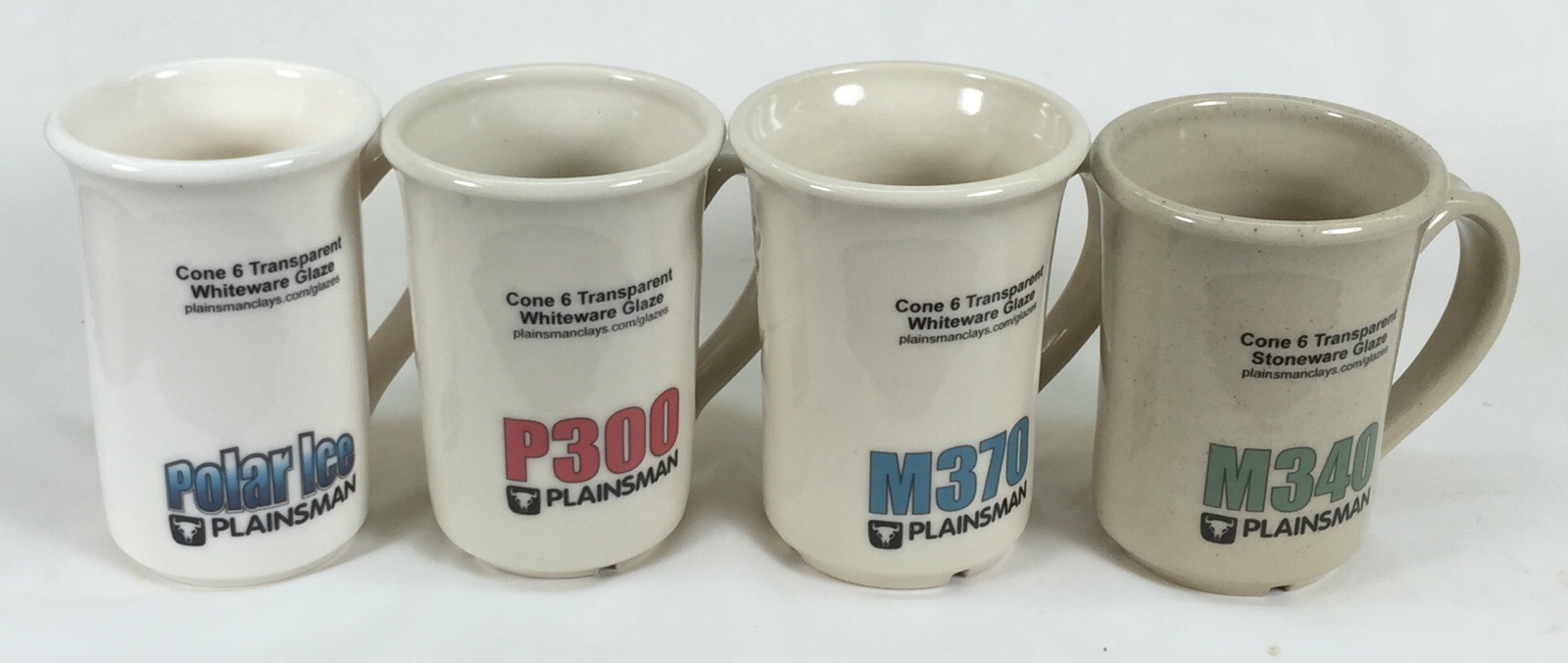 Plainsman Polar Ice, P300, M370 and M340 with G2926B Whiteware transparent glaze on the porcelain (G2916F Stoneware transparent on the M340).
P300 is a mix of plastic Georgia kaolin, nepheline syenite, 25% silica, raw bentonite (to augment plasicity) and a small amount of talc (for fired maturity control). P300 is not translucent at cone 6. It is the whitest body we can make without using expensive white plasticizers or overseas kaolins.
Process Properties
P300 is smooth, slick and fine grained. Since it is a kaolin-only porcelain, the pugged material has a distinct feel that many prefer to ball-clay-containing bodies. The added bentonite dramatically improves plasticity (as good or better than M370) and the dry strength is excellent.
Although P300 is a porcelain, its drying performance is good, most people will have no trouble with typical ware. Of course, large flat plates and tiles will require extra care. The key to success is to prevent gradients in water content across the ware during all stages of drying (at no time should one part of a piece be significantly drier than another).
Firing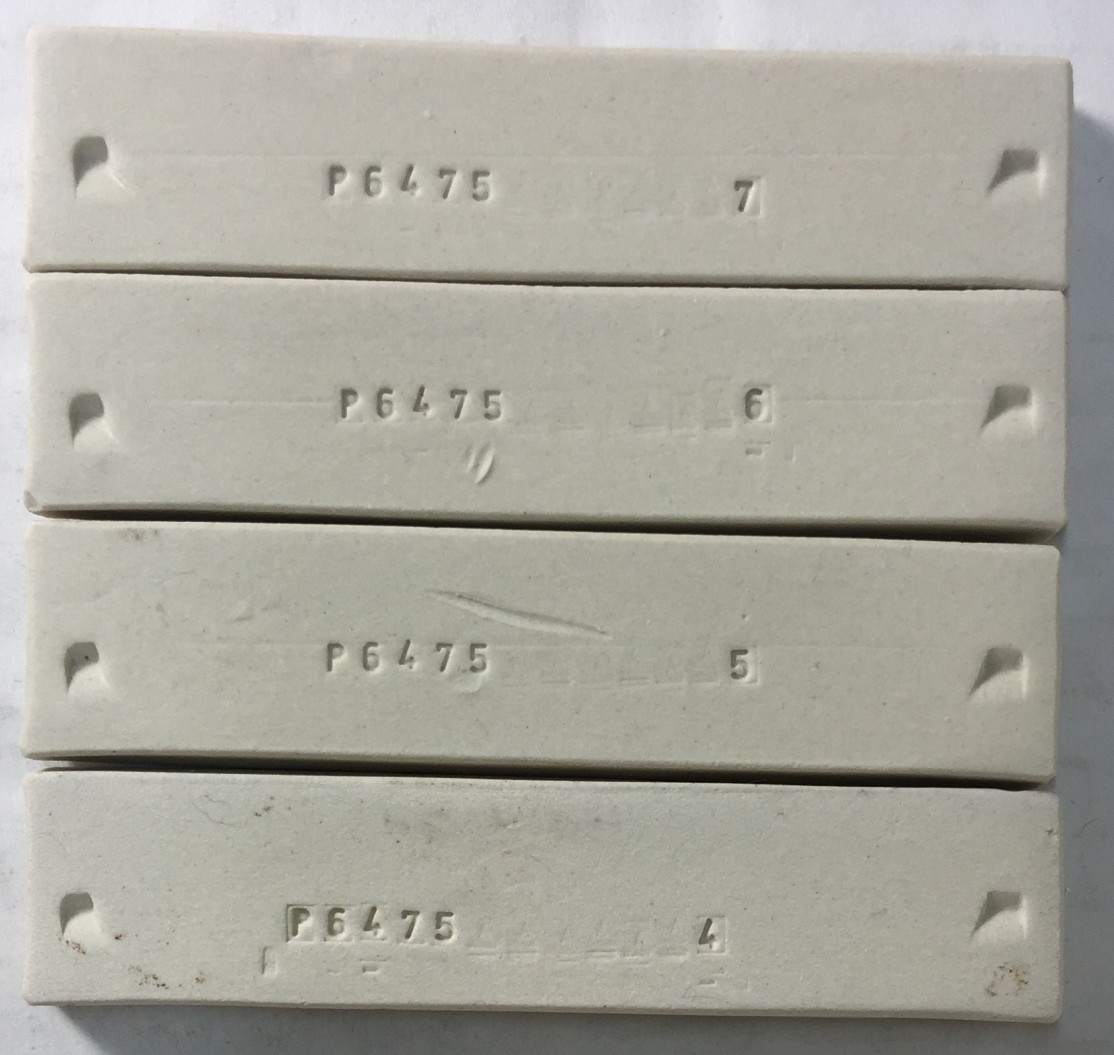 P300 fired bars. From cone 4 (bottom) to cone 7 (top).
P300 is intended to have just a little porosity at cone 6 (to give some resistance to warping and crazing). It has a fairly high fired shrinkage so ware must be able to slide against the shelf to prevent warp and sticking (of course it is wise to kiln wash the shelves also). Endeavor to make ware of even cross section, this will produce inherent structural strength to resist warping.
P300 fires a little whiter than M370 but nearly nearly as white as Polar Ice.
Glazing
Commercial brush-on glazes offer many colors and surfaces. For functional ware check for glaze fit (vital for quality functional ware). Do not assume food safety of brightly colored glazes in your kiln and with layering without a leach test (e.g. GLLE test). Consider using transparent or white liner glazes for food surfaces.
Mixing your own glazes is practical (with our clear guidelines even beginners can make dipping glazes that go on silky smooth and evenly and dry in seconds). If you already do this using recipes from the web, be careful. High-feldspar glazes (having more than about 35%) often craze. Ones that rely on high melt fluidity to encourage crystallization and variegation (often because of excessive Gerstley Borate, lithium carbonate, zinc or Frit), view these with suspicion for leaching and cutlery marking; test them well (also test the additionless versions). Be suspicious of any glaze not having good documentation.
The best approach is to begin with a good transparent base you understand and that fits. We supply (as products and recipes) G2926B glossy whiteware and G2934 matte frit-fluxed bases. Their documentation describes how to mix, use, fire and adjust them and showcases stain, color and variegator additions to create an infinite number of effects. The former, G2926B, may not have a enough melt fluidity to create non-food-surface reactive visual effects with certain colors and variegators. G3806C fluid-melt recipe is an alternative (but check for crazing). These pages also reference other base glazes that might be of interest.
Consider also making glazes based on Alberta Slip (especially the GA6-B amber base) and Ravenscrag Slip. These materials have their own websites with lots of helpful information.
Crazing: Functional ware must remain craze-free (crazing is unsanitary and drastically reduces ware strength). Because ware is not crazed out of the kiln does not mean it will not do so with time. Do cycles of a boiling water:ice water immersions (BWIW test) on a piece to test glaze fit (by stressing it to bring out any crazing or shivering tendencies).
Many people mix their glazes the traditional way, just adding water until the slurry appears to be the right viscosity for dipping. However, if you want better application properties for one-coat dipping, consider creating a thixotropic slurry. Thixotropic glazes are creamy because they have been thinned and then gelled by the addition of a flocculant. They go on evenly, hang on without dripping and dry quickly. Achieving (and maintaining) this state involves targeting a specific gravity (usually around 1.43) and adding epsom salts (1-2g/1000g of powdered glaze).
For slip decoration and engobes be careful to match the fired shrinkage of the slip with the body. Where we do not recommend a specific engobe recipe use a formula based on the porcelain itself. Add 2% VeeGum or Bentonite (the extra stickiness helps it adhere well to leather hard ware). Be careful about adding fluxes (e.g. frit), this increases fired shrinkage (the mismatch with body can cause flaking) and can compromise opacity.
If you want to develop and mix your own glazes and engobes consider getting an account at http://insight-live.com. You can organize a methodical development program and adopt better methods of testing (e.g. melt fluidity, thermal stress, slip-fit tests).
Casting Recipe
This is a plastic throwing body with significant added bentonite. It is not suitable for casting slips (it will take too long to cast, will gel when deflocculating). Please consider M370 or Polar Ice casting versions.
Thermal Expansion
[BodyThermalExpansion
Physical Properties
 Drying Shrinkage: 5.0-6.0%
 Water Content: 21.5-22.5%
 Drying Factor: c110
 Dry Density: n/a
Sieve Analysis (Tyler mesh):
     48-65: 0.0-0.1%
  65-100: 0.0-.1
 100-150: 0.0-0.1
 150-200: 0.3-0.8
Fired Shrinkage:
 Cone 5: 6.5-7.5%
 Cone 6: 7.0-8.0
 Cone 7: 7.5-8.5
Fired Absorption:
 Cone 5: 2.0-3.0%
 Cone 6: 0.25-0.75
 Cone 7: 0.0-0.25
Chemical Analysis
 CaO       0.3
 K2O       2.1
 KNaO      0.1
 MgO       0.1
 Na2O      0.6
 TiO2      0.8
 Al2O3    25.1
 SiO2     63.1
 Fe2O3     0.3
 FeO       0.0
 LOI       6.6%

Compared to Others
The decline of the ceramic industry in North America has impacted the price, availability and quality-for-ceramics of raw materials from which porcelains are made (especially ball clays and kaolins, which have seen increases in soluble salts, foreign particles and iron specks). In addition, we do not have filter-pressing, pre-mixing and stainless-steel pugging equipment (these would drastically increase prices). While you cannot make Wedgewood-quality ware it will be far whiter and cleaner than our stonewares. Notwithstanding that, be aware that transparent glazes carry a chance of isolated specks using our standard porcelains, it is better to use white and colored glazes on these. If you absolutely need a clean, white, translucent porcelain consider using our premium products, Polar Ice and P700 (they cost more but you get much more). We are also developing engobes for low, middle and high temperature ranges, using these you can apply a porcelain-like surface of almost any color at leather hard stage and completely hide the underlying stoneware. These engobes are so opaque that a white one can completely mask a black body underneath using only one coat. So, if you can master their use (there is lots of documentation here) many new design opportunities will offer themselves.
Gallery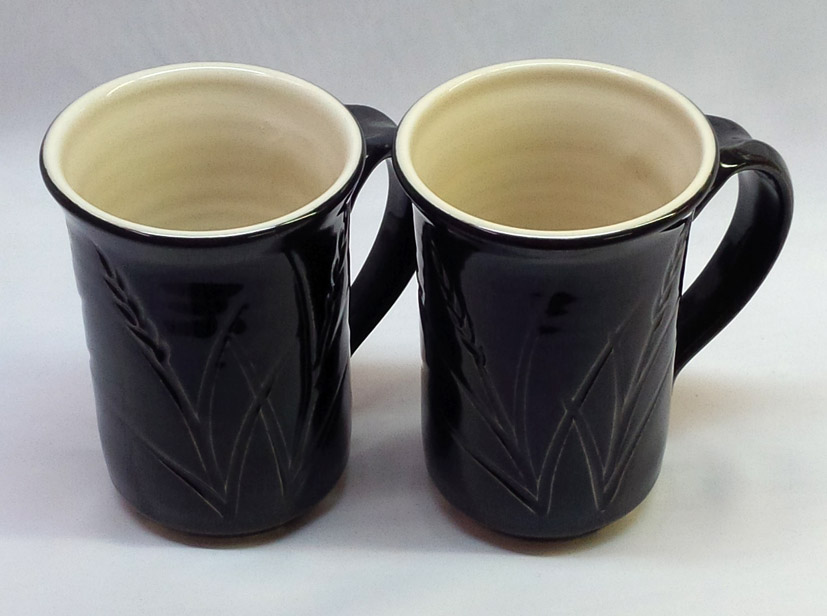 P300 (left) and M370 mugs with G2926B clear glaze and black outer glaze (G2926B+black stain). By Tony Hansen.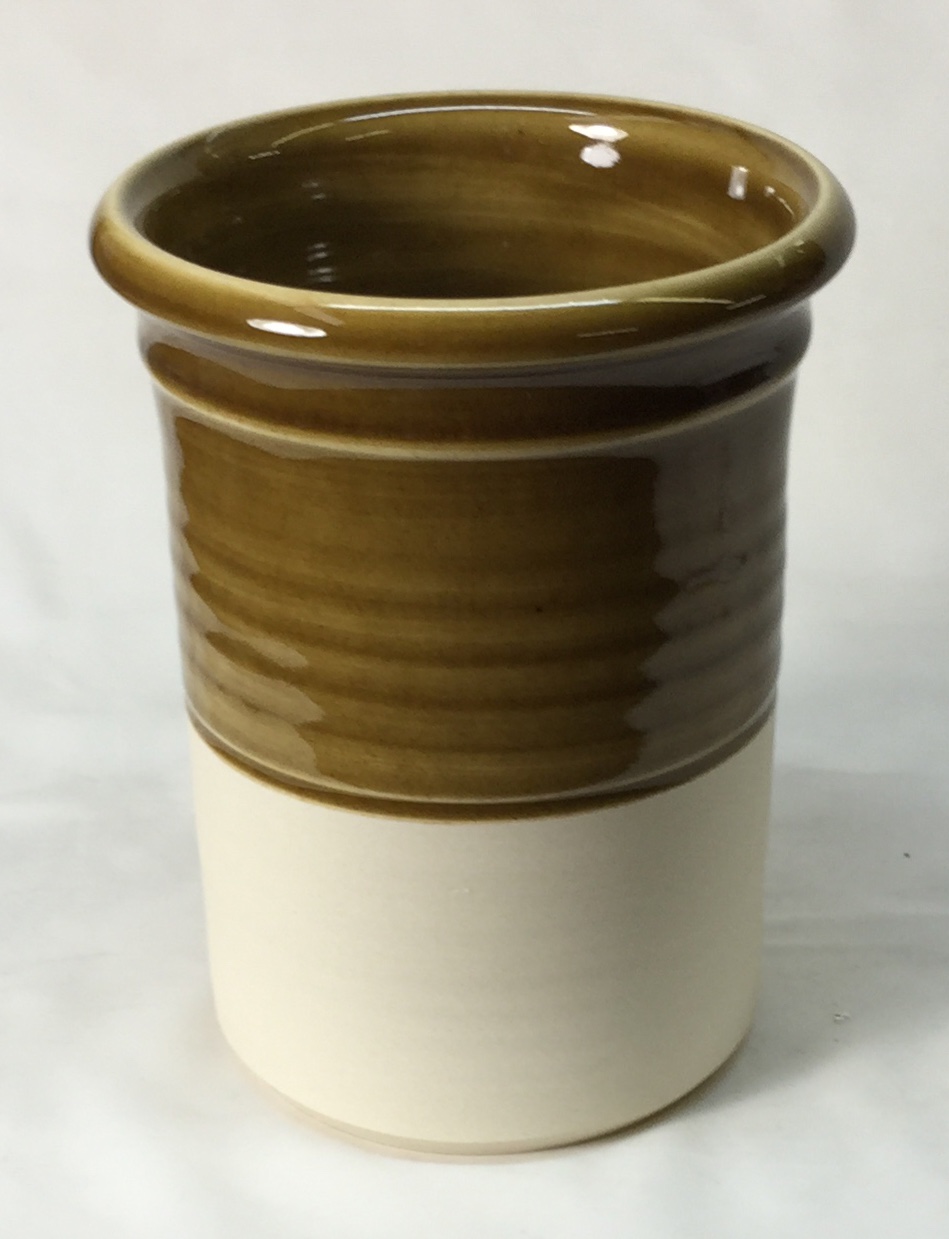 P300 with L3500E base glaze (20% frit 3249, 80% Alberta Slip) to produce a low thermal expansion).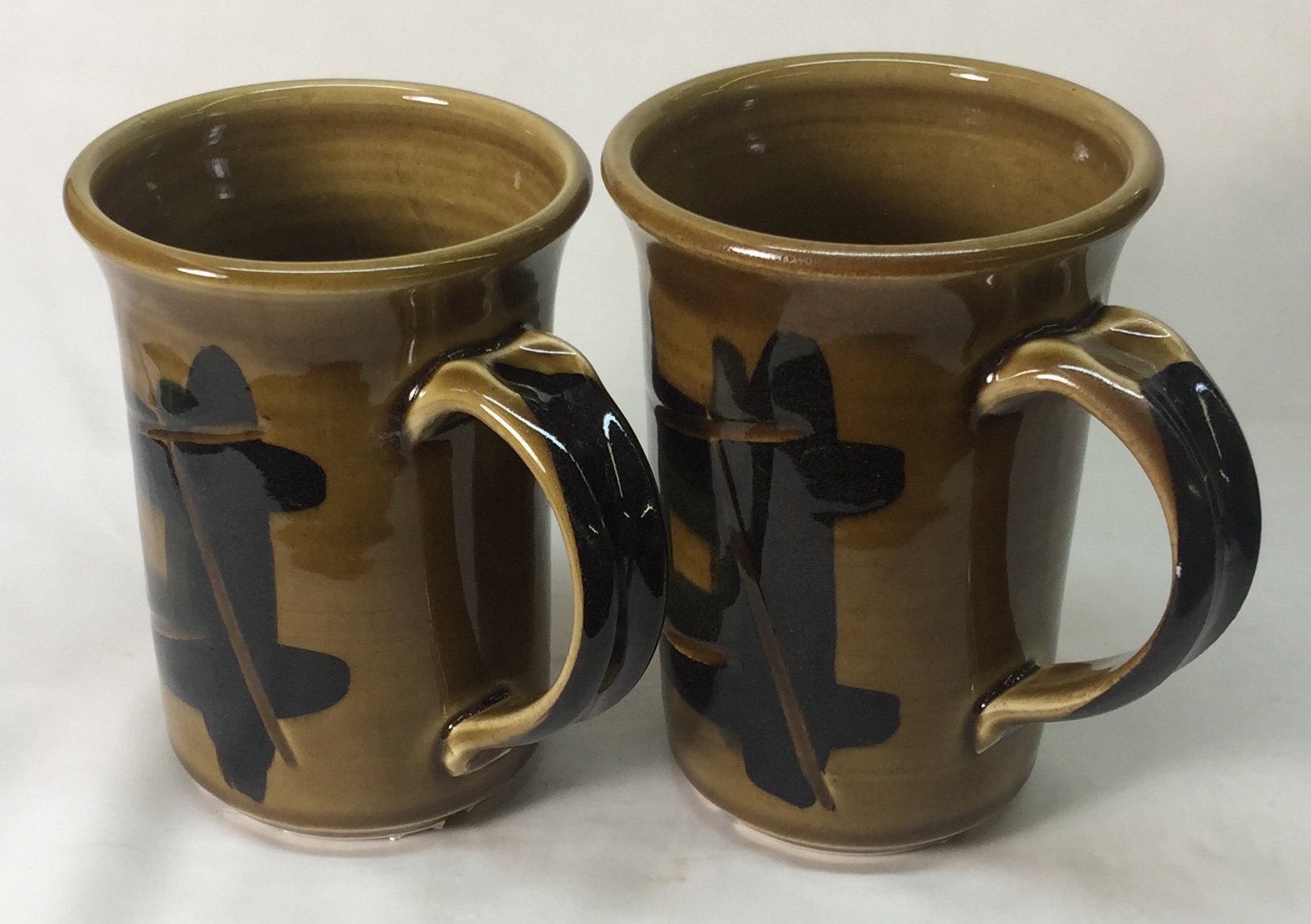 P300 and M370 mugs with GA6-A Alberta Slip at cone 6 (glaze uses Frit 3249 instead of Frit 3134). Firing soaked 30 minutes at 2100F on the way down and slow cooled 100F/hr down to 1400F.
Safety Data Sheet
Click here for web view.